【Japanese in Everyday Dialogue : Roman alphabet dNihongo®】
Customer Price:250 yen (incl. tax)/US$2.99
App Name:Japanese in Everyday Dialogue
(Current Version 1.0)
File size: 7.9MB
Language: English
Requirements: iPhone, iPod touch or iPad-compatible iOS 3.1.3 or later


Here comes the "Japanese in Everyday Dialogue" Roman-Alphabet dNihongo® App
This is a new iPhone app to help you communicate effectively in Japanese!
Each year, almost 8 million people travel to Japan for work, school or vacation, including many Manga and Anime fans from around the world. Wouldn't it be great to have an easy, fun way to learn conversational Japanese so that you can communicate with those around you in everyday situations? Now you do!
A speech recognition technology will evaluate your pronunciation.
Bonjinsha's new dNihongo® app, "Japanese in Everyday Dialogue," enables you to listen to the correct pronunciation of commonly used Japanese phrases as well as read the phrases in Roman-alphabet text on the touchscreen of your iPhone or other Apple mobile device. Incorporating Advanced Media's AmiVoice® speech recognition technology, the app analyzes audio data instantaneously and evaluates your Japanese pronunciation word-by-word.
Examples are geared towards real life situations.
The "Japanese in Everyday Dialogue" app offers 150 examples of frequently used phrases, specifically selected based on an extensive review of how often they're used in everyday dialogue. Use the app to communicate effectively with your teacher or university professor, get your message across clearly when staying at a hotel, taking a taxi or discussing the day's news with your Japanese friends and acquaintances. Traveling alone? The "Japanese in Everyday Dialogue" app can help you navigate the situation successfully.
Let's learn Japanese anytime, anywhere!
The "Japanese in Everyday Dialogue" app is an innovative new teaching tool that lets you sharpen your Japanese-language skills anytime, anywhere. It is the latest release by dNihongo® series developer Bonjinsha Co. Ltd. co-operating with Advanced Media Inc., and is designed for the iPhone, iPad and iPod Touch.
 
【Key features】——————————————————————————————————
 
Practice
A Japanese sentence will appear with the English translation. Press the Sample button and listen to the recording of a native Japanese speaker. Practice speaking like the sample audio. The speech recognition technology will evaluate your pronunciation. The words that were not pronounced correctly are underlined.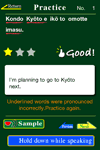 Test
The English translation of sentences that you have learned in Practice will appear at random order. Speak out the Japanese sentence.
Recall the Japanese sentence and pronounce it correctly within the time limit. Your memorization and pronunciation skills will be tested. It's a fun way of learning Japanese as if you play a game.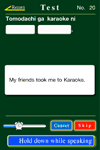 History
You can look at the calendar to check your practice record. You can also track the past scores that are represented in a chart.